REPLACEMENT PARTS FOR EZ INSERT
Replacement Parts for EZ INSERT
We sell the following replacement parts for the EZ INSERT.
DOUBLE BLOWERS, WALL MOUNTED RHEOSTAT, 8 FT. POWER CORD, PYROCERAM III GLASS, REPLACEMENT SPRING HANDLES, HIGH TEMPERATURE STOVE PAINT.
---
FOR A LIST OF PARTS AVAILABLE & PRICES CLICK ON:
---
The EZ INSERT pictured below has been painted charcoal using STOVE BRIGHT high temperature stove paint, available in 12 oz. spray cans (other colors include satin black, flat black, metallic black, metallic brown, & more). The wood handles have been replaced with SPRING HANDLES. The insert has two double blowers controlled by a Rheostat.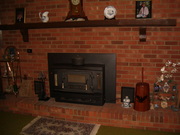 E Z INSERT Fireplace Insert
To order parts call 336-701-0555 9-5 EDT WEEKDAYS or
Email us: woodstoveparts@hotmail.com for questions or additional information.
---
---
PICTURED BELOW: REPLACEMENT DOUBLE BLOWER USED ON THE EZ INSERT.
---
---
BACK TO HEARTHSTOVE HOMEPAGE: GO TO: www.hearthstove.com
---
---
copyright 2017 Silver Valley Wood Stove Parts