Heatmaster and High Valley Stove Parts
Heat Master & High Valley Replacement Parts
We have several replacement parts available for Heat Master & High Valley Stoves. We have Blowers & Motors, Catalytic Combustors, Electrical,Gasket, & Glass.
To order online, go to:
www.hearthstove.bizhosting.com
Contact us:
109 Outpost
1-800-450-5859
336-859-2401
fax: 336-859-0503
email: snidco@live.com
(click to enlarge) HEATMASTER & HIGH VALLEY PART PRICE UPDATE MARCH 2010 -Part prices that have changed- 4T120F THERMODISC $19.95, 1M180 MOTOR $84.64, 2SH12 SPRING HANDLE $12.92, 4RWO RHEOSTAT $29.95, 7GX100 GLASS (Not listed above) $130.68.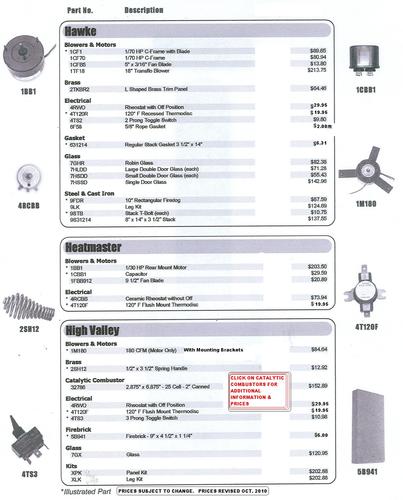 We have parts available for most stoves! If you can't find a part you are looking for please call or email us!
1-800-450-5859