Atlanta Stove Parts
Atlanta Stove Parts
We have several replacement parts available for Atlanta Wood Stoves Grates Grate Frames & Supports, Liners, and Liner Clamps, we also have Gaskets, Brass, Paint, and High Temp Sealant and More..!!!
View pictures below
Visit our Online Store at:
For any questions call us:
336-701-0555
email: woodstoveparts@hotmail.com
For More information please visit our other site:
Atlanta Stove Parts
Please click on the highlighted items to connect directly to our Online Store for your conveinence.
Prices are current on most items, updated May 2022. Prices are subject to change. This is only a partial list of the most popular items. If you do not see your parts listed or have any questions, please give us a call 336-701-0555 or email us at woodstoveparts@hotmail.com.
Blowers
1C125 (1TDU7) Double Blower for Model 4300 $199.95
1C160 160 CFM Blower (Great Add On Blower) $169.00
Mounting Flange is 4 3/4" x 4 3/4"
1C265 265 CFM Blower (Great Add On Blower) $184.95
Mounting Flange is 5 1/2" x 5"
***We can cross reference many blowers, please send us a picture and any information seen on the blower motor, we will be glad to assist you. ***
Gaskets
7G58K 5/8" Rope Gasket Kit $18.39
Fits the Homesteader Models
** Kit contains 7 foot of gasket & Adhesive **
***If you do not know the correct size of door gasket needed, please measure the width of the opening on the channel in which the gasket seats, this will normally be very close to the correct size ***
Glass
7GCC Franklin 26 Glass 3 1/2" 12 1/4" $42.00 each
**We Can Custom Cut ANY Rectangular Glass Size **
Grates and Grate Frames
3900 Atlanta Short Grate
Measures 18 1/2" x 3" $119.39
3901 Atlanta Long Grate
Measures 19" x 3" $ 119.00
Measures 13 1/4" x 13 1/2" $219.00
6497 Grate Frame
Measures 23 3/8" x 12 3/8" $199.00
6498 Atlanta Short Right Grate
Measures 22 3/4" x 3" $189.00
6499 Atlanta Long Left Grate
Measures 23 1/4" x 3" $195.00
5574 Atlanta Grate Support
Measures 4" x 7/8" $29.00
6502 Grate Cog $15.00
Stove Liners
AT1651 Steel Front Liner 240/2401/624
Measures 13 1/2" x 4 7/8" $47.95
AT1753 Rear Liner 3400/3401U
Measures 14" x 11 1/8" $49.00
303001 Rear Liner 3418U/516U
Measures 12 3/8" x 9" $80.00
AT6477 Left Rear Side Liner 24/124/240
Measures 13 7/8" x 11 7/8" $249.00
AT6478 Left Front Side Liner 24/124/240
Measures 13 1/2" x 12 1/4" $249.00
AT6479 Right Rear Side Liner 24/124/240
Measures 13 5/8" x 12 $135.00
AT6480 Right Front Side Liner 24/124/240
Measures 13 1/2" x 12 $249.00
Liner Clamps
AT1732 Steel Liner Clamp 9 x 2 7/8" $29.00
Fits 624UB/3418B/2400/3400/3401U
AT6483 Cast Liner Clamp 2 5/8" x 3/4" $14.02
Fits 124A/240A/624U/724U/2401U/2420U
206500 Cast Iron Clamp 4 3/4 x 3/4 x 1 1/8" $20.00
Fits 516U/ 3418/ 3420
Miscellanceous
403011 Stove Ash Pan 17 3/8" x 9 3/4" $79.00
AT6473 Cast Iron Flue Collar 6 lnch $115.00
2LDK Cast Iron Draft Regulator 3 3/8" $41.75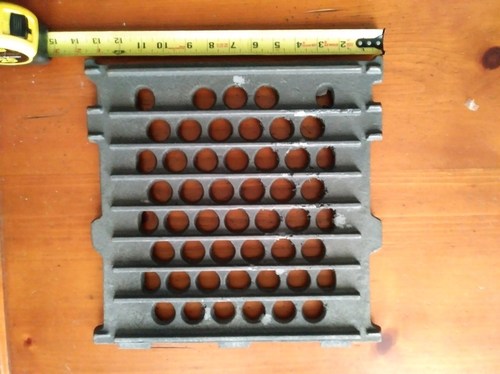 Parts Available for the following Models :
24 DGB/ 324DG
2420U / 724U
2450A / 2450A-BR
2502 / 3420U
3418B / 3428MH
60 Boss / 9-133 Cozy
Box 27, 32, 33
Bungalow 118A/ Fortune 118A
Fireplace 179
Franklin Fireplace 122
Franklin Fireplace 126
Franklin Fireplace 132
Franklin Fireplace 226CC
Franklin Fireplae 26/26G
Franklin Fireplace 32
Furnace 700 Series
Homeglow 3400 / 3401U
Homesteader 240 / Knight 124
Homesteader 240A / Knght 124A
Homesteader 340DG / Knight 524/ 340ADG
Homesteader 2400 / Knight 624 UB
Homesteader 2401U / Knight 624U
Homesteader 2410 GU / Knight 624GU
Homesteader 3418U / Knight 516U
Homesteader 3418UA / Knight 516U / 516UA
Huntsman 241 / Ponderosa 24
Huntsman 241C / Ponderosa 24C
Huntsman 400 DD / Ponderosa 24 DD
Huntsman 4010 / Ponderosa I
Huntsman 4020 / Ponderosa II / 20 DD
Huntsman 4030 / Ponderosa III
Huntsman 4040 / Ponderosa 28 / Combi 4020
Magician 22CC / Old Hickory 122CC
Majik 122A / Rebel 121 / Heater #19
Ponderosa 23A-I / 23A-G
Red Mountain Banner Laundry Stove
Red Mountain Baron Heater
Red Mountain Kitchen Range
Red Mountain Knight 224B / 24WG
Red Mountain T Range
Sunny Jim 40 / 75/ 100
Super Fireball 1675
Woodsman 24 / Nordic 27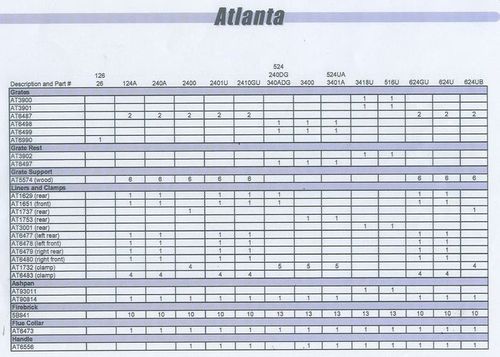 We have parts available for the following stoves:
Abraham, Acorn, Ajax, Alaska, Allnighter, Allstar MFG, American, American Eagle, American Furnace Company, American Road, American Seating, Americana, Andes, Apache, Appalachian, Argand, Armoral, Arrow, Ashley, Aspen, Atlanta, Autocrat, Avalon, B.K., Bat Cave Stoves, Berkheimer, Berkshire, Better'n Ben, Big Ben, Big Jim's Woodstove, Birmingham Range, BIS, Blackhawk, Blaze King, Blue Ridge, Boss Stove, Boston Stove Company, Brown, Buchanan Welding, Buck Stoves, Buckeye, Buckner Enterprises, Bussy & McLeod Stove Company, C & D Enterprises, Caboose Stove, Cannon Stove, Carolina Stove, Catalytic Damper Corporation, Cawley-Lemay Stoves, Century, Chappee, Chehalem Fireside, Chippewa, Chubby, Citation/Salvo Machinery, Clarion/Wood Bishop, Clayton, Co-operative Foundry Company, Coalbrookdale Stove, Coalmaster, Cole's Heaters, Coleman, Comfort Flame, Comforter, Concord, Consolidated Dutchwest-Vermont Castings, Corinthian, Coronet, Cottage Stove, Country Comfort, Country Flame, Country Stove, Craft Stove, Crane, Crawford, Dare IV, Defiance Company, Derco Inc., Desa, Design Dynamics, Detroit Stove Works, Devault-Fab, Dexter Stoves, Dixie, DK Metals, Dockash, Dominion, Doorwood, Dove, Dover, Drolet, Duomatic-Olsen, Eagle Furnance, Earth Stove, Efel, Elm, Elmira, Enerex, Energy Harvester, Energy King, Energy Marketing Corp., Energy Mate, England Stove Works, Englander, E-Z Insert, Enterprise, Estate Eureka,Euro-Design, Excaliber, Faultless Oak, Favorite, Fawcett, Fern, Fire Chief, Fireplace Xordinair, Firepower Add-on Furnace, Firerite, Fisher, Fjord, Florence, FMI Fireplace, Foundry, Fuller & Warren Co., Garrison, Georgetowne Stoves, Gibraltar, Glacier Bay, Glenwood, Globe, Godin, Gold Coin, Golden Oak, Greenhorizons Furnaces, Grimstock, H.B. Smith Coal Boiler, Haas Sohn, Hampton, Hardy Outside Furnace, Harmon, Heart Fireplace, Hawke, Hayes Equipment, Hearth Heat, Hearth Mate, Hearthland, Hearthstone, Heating Energy, Hercules, Heritage, High Valley, Hitzer, Home Comfort, Home Heater, Homer, Homewood Furnace, Horstman Industries, Hotblast, Hoval Boiler, Hutch, International Heater, Ironstrike, Jensen, Johnson Energy Systems, Jotul, Jumbo Stove, King, Kingsman, Nightingale, Knox Stove Works, Koser Northland, Kresno, Kuma Stove, Lake Region Stove Works, Lakewood Stove, Lancaster Fabrications, Lange, Lavec, Leaders, Lighthouse, Lilly Furnaces, Lilly Stoves, Locke Stoves, Long MFG, Longwood Furnace, Lopi, Loth, LTD Furnace, Magee, Magestic Range, Martin Industries, Mealmaster, Memco, Modern Maid, Mohawk Industries, Monarch, Morso, Mount Vernon Range, Napoleon, Nashua, National Steelcrafters, Nestor Martin, New Buck, Newmac, Nightingale, Northland, Novel, Novelty, New-Tec, Old Mill, Olix Air-Flow, Oregon Wood Stoves, Orley's, Orono, Orr Painter & Company, Orville Products/Country Comfort, Panda Stoves, Park Oak, Patriot, Penn Coal Stove, Perry Stove Company, Pettite Godin, Phillips & Clarke Company, Pine Baron Stove, Portland Stove Company, Pro-Former-Z, Rathbone Sard & Co., Rebel, Record Foundry, Red Cross, Regency, Reges Metal, Reginald, Rembrandt, Riteway, Round Oak, Royal Scott, RSF Energy, Rupp, Saey, Salvo Machinery,Scan, Scandia, Schooner, Scotia, Scranton Stove Works, Sears, Security, Shenandoah, Sierra, Silent Flame, Smith, Smoke Genie, Sotz, Splendid, Squire Stoves, Stanley Cook Stoves, Steel King Furnance, Stewart, Suburban, Summer Heat, Sunbeam, Sunshine, Superior Stove, Surdiac, Sweet Home, Tarm, Tempwood/Tempcoal, Thermograte, Timber Eze, Timber Ridge, Timberwolf, Tirolia, Torridaire, Trail Blazer, Travis Industries, Treasure, Treemont, Ultraburn, Universal C & S, Upland, US Stove Company, Van Wert MFG, Vansco, Vantage Hearth, Vermont Castings/Consolidated Dutchwest, Vermont Down Drafter, Vermont Iron, Vermont Soapstone, Versagrid Retrofits, Vestal, Viking, Virginian, Vulcan, W.E.T. Industries, Warm Morning, Warnock Hersey, Waterford Stove, Webco Ind., Webster Stove Company, Welcome, Western Fab, Wier Stove Company, Wonderwood, Wondercoal, Wood Bishop, WoodChief, Woodchuck, Woodmaster, Woodstock, Woodstocker, XTEC, Yukon...and more!!!